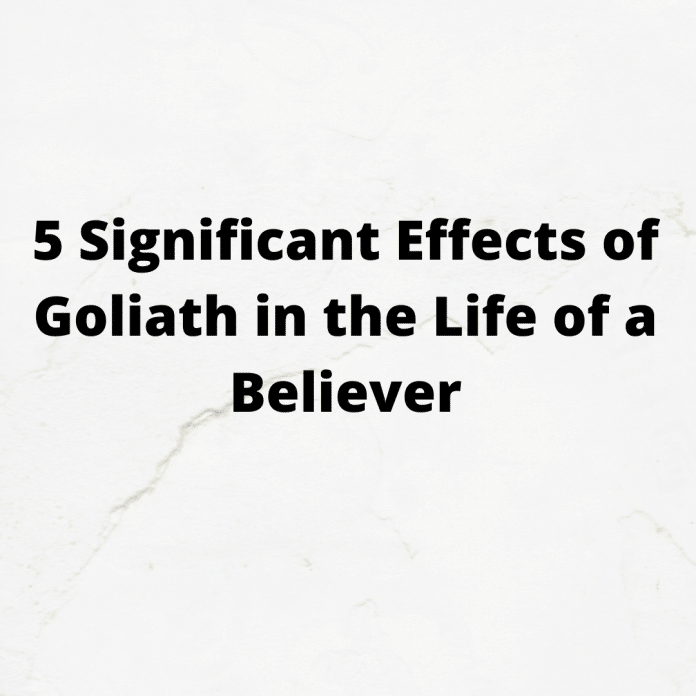 Today we will be teaching on the 5 significant effects of Goliath in the life of a believer. First we have to give a vivid definition of what Goliath means. Goliath is not just a tall giant that intimidate people as the Bible explained by the book of 1 Samuel chapter 17. Goliath is more than a physical representation of an oppressor, Goliath is any demonic force that limit the progress of a another. This means, Goliath doesn't have to be tall or huge before they can be called Goliath. Once they are capable of enslaving, impoverish, or subject another person to life of torment, they are Goliath.

Unfortunately, many believers have Goliaths in their lives and they know not. Despite Abraham's relationship with God, he had to contend with the demon of barreness. That barreness was a Goliath making it impossible for Abraham to have children. As great as Moses was, he was overwhelmed by the spirit of anger. It was that same anger that hindered him from getting to the promise land. To other people, their Goliath could be failure, it could be poverty, it could be untimely death or any other thing.

When Daniel prayed to God, the answer for his prayers were sent through an angel. The prince of Persia held the angel down that Daniel was unable to get answers to his prayers. However, Daniel didn't stop praying until another angel was sent to deliver the one that has been held captive so that he can deliver Daniel's answered prayers. Goliath could stand as an hinderance against the happiness, health or wealth of anyone.

Goliath in the lives of the Isrealites was a major oppressor. He would come out every morning and evening to challenge the children of Isreal to a fight, when all the men of Isreal saw him, they fled before him. They were greatly terrified by his intimidating height and tough look.

Sometimes, the Goliath in our lives can be obvious to an extent that we will know we are tormented or oppressed. Other times, they secretly discharge their duties in a subtle manner that we would not even take note of. Meanwhile, it is very good to notice a Goliath fast enough so as to raise an altar of prayer against it. If you care to know if your life is being disrupted by the presence of a Goliath, watch out for this signs:
Prayers Are Unanswered

One of the significant effects of a Goliath in the life of a believer is unanswered prayers. We pray to God with faith that he exist and hope that He listens and answer us. This was also the case of Daniel.

The book of Daniel 10 explained how Daniel prayed to God fervently. God heard his prayers from heaven and sent an angel to give answers to his prayers. However, the angel was resisted for 21 days by the prince of Persia. The angel would have remained at the spot for life but because Daniel persisted in prayer. God had to send Angel Michael to free the angel held down by the prince of Persia.

God hears us when we pray. Sometimes, the reason we have not gotten answers to our prayer is because of the presence of a Goliath in our life who is standing as an hinderence. When you pray and you do not get response, it is a sign that there is a Goliath in your life.


Opressed By Financial Need

The scripture says God will supply my needs according to His riches in glory through Christ Jesus. Our financial needs should be taken care of. Not automatically as many preachers would have you believe. The Bible says see a man diligent in his works, he will stand before kings and not mere men.

However, you would see some believers toil, devote their life and everything to their works, yet they lavish in penury. This is a sign of a Goliath. It is important to know that Goliath is an hinderance and a great tormentor. When you work and you don't get the reward of your sweat, there is a Goliath in the picture standing between you and prosperity.


Kشاهد التلفزيون EVERYDAYPRAYERGUIDE على YOUTUBE

إشترك الآن
Tormented By Sickness

The blood of Christ is sufficient to heal all kinds of diseases. However, when your life is plagued by terrible sickness that defy every orthopedic attention given to it, that's a sign that a Goliath is in your life.

The scripture says by His stripes we are healed. Christ has taken upon himself all our infirmities and he has healed all our diseases. This means, long before we were born, Christ has healed us. This is a standing covenant for us, a Goliath can stop the covenant from coming into fulfilment.


When You Can Conquer Sin

There are people whose Goliath is sin. The Bible made us understand that the ears of the Lord is not too heavy to hear us, but it is our sin that has created boundary between us and God.

To some believers, their Goliath is sin. The more they try to stay away from sin and iniquity, the deeper they fall into it. When you notice that you have begged God for forgiveness on one particular sin over and over again, it is about time to kill that seed of sin in your life.
When You Are Terrified

For God has not given us the spirit of fear but of Sonship to cry Ahba father.

The men of Isreal were greatly terrified at the sight of Goliath. No one could dare to challenge him. Whenever he is out boasting, all the men of Isreal run away from his sight. One of the logics of a Goliath is to inflict our lives with fear. It makes us forget that we have been adopted as sons and daughters of salvation.

Sometimes it could be fear that God can not forgive our sins. We are greatly terrified to go into the presence of the lord. Meanwhile, the scripture says for we have not an high priest that can not be touched with the feeling of our infirmity. Hebrews 4:15-16 For we do not have a High Priest who cannot sympathize with our weaknesses, but was in all points tempted as we are, yet without sin. Let us therefore come boldly to the throne of grace, that we may obtain رحمة and find grace to help in time of need.